3D printing is an amazing tool for every day life. However, even before the Covid19 outbreak 3d printed prosthetic hands and open source medical devices (project Glia) have developed the .stl files for Medical devices in the field.
Now with the outbreak of COVID19, 3D printers and designers are in lock down in their homes. Differing reports state that hospitals may run out of ventilators and other essential medical equipment.
With these dire announcements, 3D printers are challenged to respond to supply shortages with their printers.
Below is a list of efforts around the world to provide 3d printing resources to meet the dire supply need.
Isinnova : 3D Printed Valve
Cristian Fracassi & Alessandro Romaioli ( Isinnova ) have become the poster printers for emergency 3d printing. They were recruited by a professor to quickly address a shortage of regulator valves which are designed for CPAP Hoods. For instance, Italian hospitals are running short of these critical valves, and could not be resupplied in time.
The pair contacted the manufacturing company (Intersurgical) for the technical plans, Intersurgical could not provide the designs due to medical and IP control laws.
As a result, this left them with no choice but to reverse-engineer and reproduce the valves on their own. Within a day Isinnova had reproduced the valve, and over a weekend were able to 3D print 100 valves for local hospitals. The printed valves have been deployed in field, and are preforming on par with the factory made valves.
However, Isinnova admits that the valves are a stopgap. Isinnova has shown that in an emergency, batches of supplies can be quickly produced.
Copper3D Mask against COVID19
Copper3D is a Chilean filament start-up that has been working with the FDA and other health organizations to produce anti-microbial 3D printing filament. However as hospitals and the public experience a critical shortage of N95 mask, 3D printable designs for respirators have popped up in different file sharing sites. Among the mask designs is the one designed by Cooper3D. Copper3D is filing a patent on the design, but they have also released the mask design Open Source so anyone can 3D print the mask.
In spite of this, it will still require the N95 filter media. After downloading the files it takes about 2 hrs total to print the 3 pieces.
Lulzbot has announced on Twitter ( @lulzbot3D ) that they have turned their 3D printer cluster to printing the Copper3D mask design.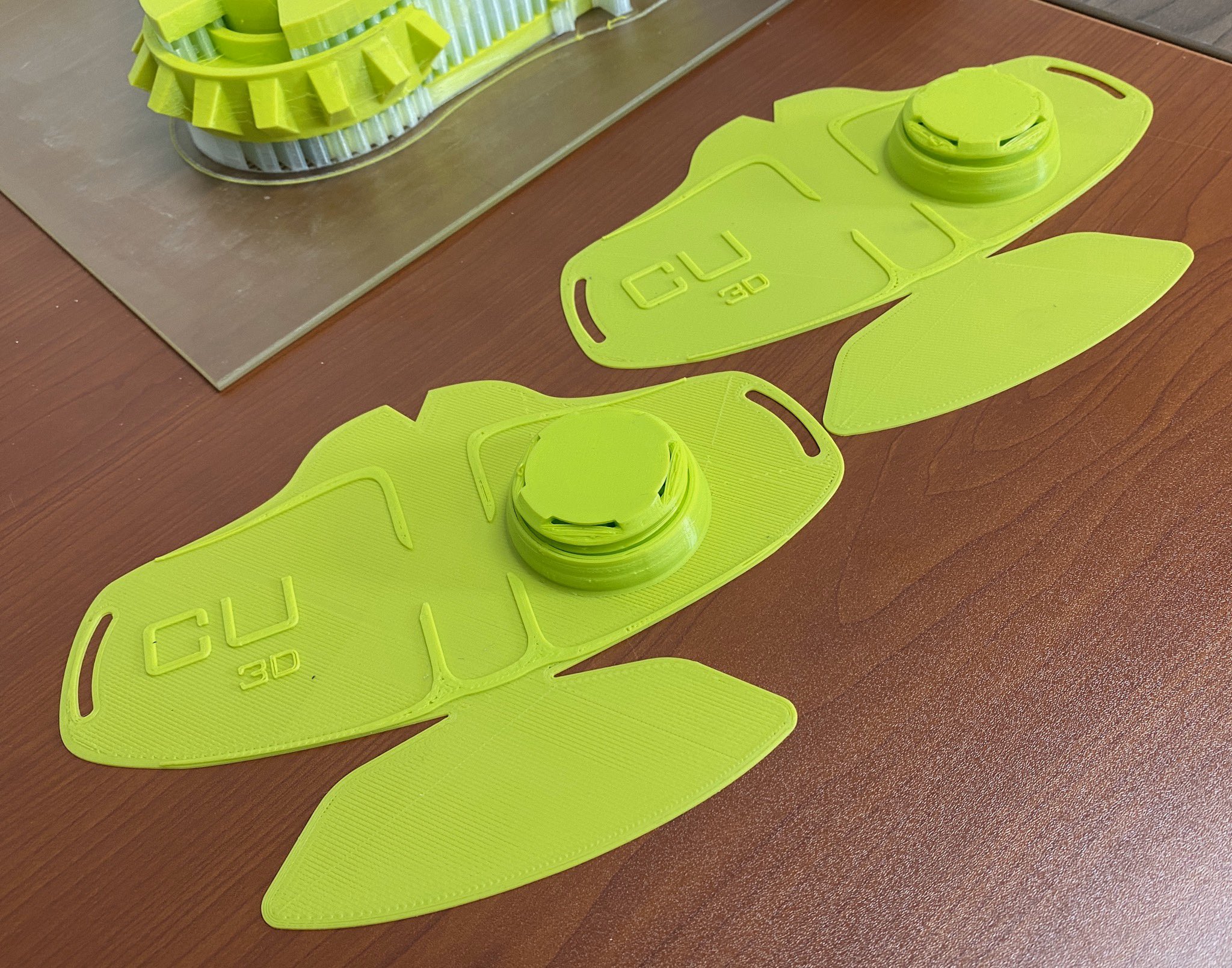 While this mask is still being validated for medical use, it promises to give the hospitals access to reusable mask for this outbreak. I'll print the files and film a vlog about it, which I'll publish here.
UPDATE 3/20: I printed the Copper3D mask in TPU. While the mask fits tightly with an airtight seal with TPU, the single hole for the filter was not going to let enough air in for me. Thankfully, 3D Universe quickly added a 2d hole for breathing, with the files released here. It is great that designs can be quickly iterated and improved upon. I'm printing this version now and will have a video this weekend.
UPDATE 3/22: Many 3D printers in the community have been testing and evaluating the Copper3D mask. Unfortunately most seem to agree that the Copper3D design will not work as a long term or even short term stopgap. While I've started printing and modifying the 3D Universe design, I'll end once I thermaform the mask to my face. The general consensus is that while Copper3D may have good intentions, they are using the mask to sell their copper infused brands of filaments. There are other mask designs that print without assembly and are similar to commercial respirators. Right now I'd rather support all the people that are sewing mask locally, as the cloth ones are more comfortable, breath better and are easy to wash.
Prusa: Face Shields
Prusa is a Czech company best known for their desktop 3D printers. Recently they have switched their printing farm from printer parts to face shields for medical personnel.
In 3 days time they have prototyped and gone into testing with these face shields. Currently Prusa can print 800 units, with the capacity to max out at 4,000 a day just from their factory! Their design has been approved by the Czech Minister of Heath, and are currently being field tested. While they expect updates, a large batch has already been deployed to the medical field!
Open Source COVID19 Medical Supplies
Right now Open Source hardware groups are organizing quarantined printers and designers to answer the call of the medical community.
The facebook group has quickly gathered designers and prototypes for the different required projects.
Open-source Oxygen Concentrator is working on producing emergency oxygen concentrators for recovering patients.
Open Source Ventilator Ireland has been working actively to make a 3D printable ventilator. This essential device breaths for COVID19 patients while they are recovering. The different designs convert a Bag Valve Mask (BVM) from a handheld device to a mechanical ventilator for patients.
Currently the designs are being printed, with validation expected within a week. All files and documentation are hosted on the groups GitLab, and will be updated as testing continues.
Glia: Stethoscopes
Project Glia made waves back in 2015 as Dr. Tarek Loubani launched Glia to make 3D printable stethoscopes and tourniquets for emergency use.
The Stethoscope meets all current medical standards for scopes, at the cost of $2.30 USD.
If new medical students are pressed into the field, they will need to 3D print auxiliary stethoscopes.
Disclaimer: These devices are in various stages of medical approval. Please check your national and local laws before deploying 3D printed items to the field.